ABOUT THE S4 PROGRAMmore
Limited space is available for the following camps:


View all.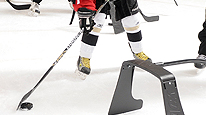 S4 is available in two streams: "grassroots" (available to all novice to peewee players) and "advanced" (specifically for rep / tier 1 & 2 players).
THE S4 MANDATE
This program is specifically designed to develop, teach and enhance players individual skill development. This integrated individual player developmental model supports the continuous and progressive growth of players within Hockey Edmonton.